Have you ever experienced appliance euphoria?
If you have, you know exactly what I'm talking about.
It's that moment when you see it across the appliance showroom. There seems to be a spotlight shining down from appliance heaven onto the shimmering masterpiece. You have to have it! That's exactly how I felt when I was perusing the aisles of the local appliance store planning my dream kitchen.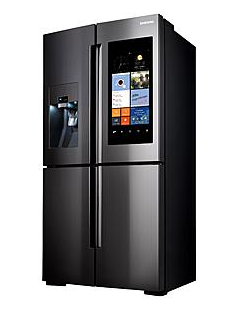 I found her—she's definitely the one! I saw her standing tall on the endcap with her 21.5 inch, WiFi-enabled, LED touchscreen scrolling through all of its options. I couldn't get there fast enough to see this incredible technological creation. Samsung is her name, and she's absolutely amazing! I had heard the tales of a refrigerator you could connect to from the grocery store to see just how many eggs were left, but I had to see it to believe it. It's that and so much more!
The Samsung Family Hub offers apps for every member of the family. You can use the TV Mirroring app and connect to your smart TV so you don't miss a moment of what you were watching in the living room. Hate digging through recipe books and paper files? Connect to All Recipes through your smart refrigerator and kiss those books goodbye! Like to sing and dance while you cook? Connect to Pandora and rock that recipe! The Family Hub offers a way to connect to everyone in the family by syncing calendars, sending messages, or posting reminders. No need to worry about getting those pictures printed for your fridge—now you can display your digital photos. You can even browse the internet or catch the weather!
Have you ever found yourself in the grocery store unable to remember if you need eggs or milk? Just connect to your fridge with your phone and view what's inside! It takes a photo of what's inside every time the doors close, so you never have to forget anything again! Use your digital grocery list right on the refrigerator door, or manage food expiration days. If grocery shopping isn't your idea of fun, you can use an app on your Family Hub to place grocery orders for pick-up or delivery!
Need more fridge space? No worry! With this one-of-a-kind smart refrigerator, you get four french doors with a "flex" space that can change from fridge to freezer and back to fridge as often as you need.
The color was something else to love. Who has the time to squabble over if you want black or stainless steel appliances? With the black stainless steel Samsung offers, you don't have to choose. It's shiny, dark, and beautiful—a sleek, modern, welcome change from the usual.
You have to love technology. It's how we live, work, play, connect. And now, it's how we refrigerate! I was hooked at first sight. This was truly appliance euphoria. This refrigerator is so amazing, why not get the matching convection microwave oven, dishwasher, and dual door WiFi connected range to match? Dream kitchen—I can't wait!
by Shannon Harmon